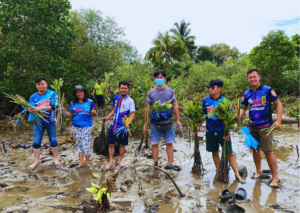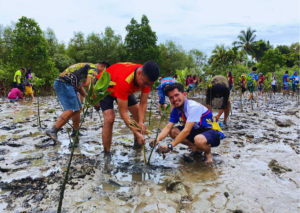 PRESS RELEASE
Contact: RMN Foundation, Inc.
Phone : 0928-987-6936, (+632) 8478-3651
E-mail Address: rmnfoundation@rmn.ph
Pagadian City (In addition to bringing joy to listeners and demonstrating a commitment to protecting the environment, the RMN Foundation, through RMN – DXPR Pagadian 603 and IFM 96.7 Pagadian, actively participated in the planting and nurturing of mangroves on July 19, 2023, in Barangay Tawagan Sur.
Mr. Mel Coronel, Station Manager of DXPR 603 and iFM Pagadian, sent the RMN team to Tawagan Sur to cover the event and promote the growth of mangroves in coastal regions.
"We sent the RMN team to fully engage in the activity. We understand that planting mangroves is crucial for safeguarding coastal areas," stated Coronel.
The Barangay Council of Tawagan Sur, Pagadian City, passed an ordinance mandating the annual planting of mangroves in coastal areas in Tawagan Sur, and it has been actively enforced over the years.
P/B Marianette Marcaban, the barangay chairwoman of Tawagan Sur, emphasized the significance of mangroves in protecting against storms, strong winds, waves, and floods.
Mangroves contribute to the environment by maintaining water quality through the filtration of pollutants and capturing sediments from the land. Mangroves aid in the distribution of nutrients in seagrass habitats. It will also serve as a safeguard for shorelines from storms, preventing wave damage and erosion.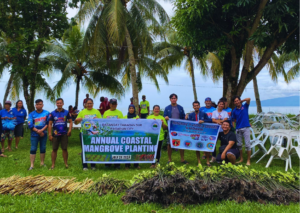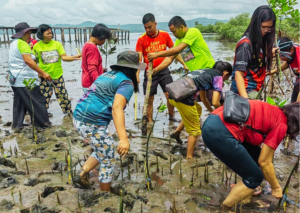 Various organizations, including the "Kahugpungan sa mga Kabatan-onan" led by Sanguniang Kabataan, the fraternity group, Gagadian Prime Hills Club Eagles Club, the 1st Field Artillery 'Beat Em" Battalion, First Cavalry "Tagapanguna" Battalion, Tactical Operations Group 9, ZSPPO-PAGPTD, teachers, barangay officials, as well as the Radyoman Fans Club, and employees of DXPR and iFM, came together to support the cause and planted over 1,000 mangroves in Tawagan Sur.
The RMN Foundation's commitment to Corporate Social Responsibility remains steadfast, actively supporting any initiative aimed at conserving our environment under "Lingap Kalikasan" program.
Report by RadyoMan Elgen Millian Limare, RMN DXPR 603 Pagadian
About RMN Foundation
The Radio Mindanao Network Foundation (RMN Foundation) was established on September 5, 2012 as the corporate social responsibility arm of RMN Networks, Inc., which is committed to support and cultivate humanitarian relationships that uplift the Filipino's quality of life in every part of the Philippines.
With a nationwide broadcasting strength of over 60 AM and FM owned and affiliated radio stations, the RMN Networks aims to provide public service through the airwaves, but also in the most meaningful way directly to local audiences through the efforts of RMN Foundation.
The Foundation is a non-stock, non-profit organization that develops and implements programs to address the needs of the underprivileged and contribute to address the social problems in the country.
BE OUR ADVOCACY PARTNER TO HELP
For those who want to donate and be a partner of the RMN Foundation in its programs and projects, just visit www.foundation.rmn.ph or through the RMN FOUNDATION PH Facebook, Instagram, and LinkedIn pages.