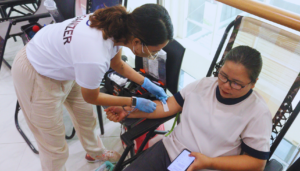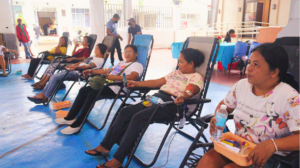 THE RMN NETWORKS' DUGTONG-BUHAY CARAVAN 2023: BLOODLETTING PROJECT OF THE RMN FOUNDATION PFIZER PHILIPPINES FOUNDATION IN BICOL WAS A SUCCESS.
PRESS RELEASE
Contact: RMN Foundation, Inc.
Phone: 0928-987-6936, (+632) 8478-3651
E-mail address: rmnfoundation@rmn.ph
Naga City, Bicol (25 July 2023) – RMN Networks' Dugtong-Buhay 2023 Caravan: Bloodletting Project by RMN Foundation and Pfizer Philippines Foundation was successfully conducted on July 12 at Camaligan People's Center, Camaligan, Camarines Sur and on July 14 at Robinsons Naga, Naga City in conjunction with the celebration of National Blood Donor Month this month.
Nearly two hundred (181) bags of blood components were collected during the said bloodletting activities with the help of Bicol Medical Center-Blood Bank and Transfusion Service, RMN DWNX Naga and Municipal Government of Camaligan. Aside from the bloodletting activity, the Naga City Health Office also conducted free screening for HIV and AIDS.
In the interview of RMN DWNX Naga with Dr. Raymundo Ibarrientos, Blood Bank and Transfusion Service Head of Bicol Medical Center (BMC), the collected blood components of BMC are not only distributed to different provinces of the Bicol Region but also to hospitals in need in Metro Manila, as well as when there is a calamity or disaster such as a typhoon, earthquake, or volcanic eruption.
RMN BLOOD EXPRESS
The collected blood components were shared by the BMC in collaboration with the RMN Foundation to be transported to The Medical City as their storage facility and to offer blood to people in need in Metro Manila. Philippine General Hospital, St. Luke's Medical Hospital-Quezon City, and St. Luke's Medical Hospital-Global City are additional partner hospitals of Bicol Medical Center in Metro Manila that will keep the collected blood components.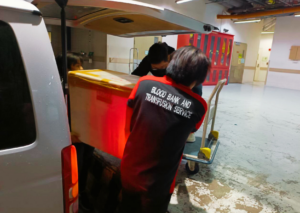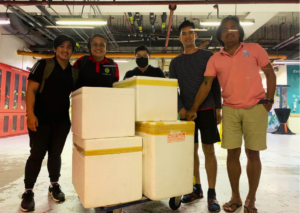 This project was also supported by Home Suite, Giant Carrier, Poten-Cee, JDP Creatives Media, University of Nueva Caceres-Nursing Students, Camaligan Municipal Health Office, and Camaligan Barangay Health Workers.
WATCH THE FULL INTERVIEW OF RMN NAGA DWNX HERE:
The RMN Foundation and the Pfizer Philippines Foundation would like to thank everyone who took part, assisted, and donated.
This project is part of the 'Radyo Sustansaya program' of the RMN Foundation which strives to deliver Health, Wellness, and Nutrition programs and projects.
Report by Patrick Aurelio, RMN Foundation
About RMN Foundation
The Radio Mindanao Network Foundation (RMN Foundation) was established on September 5, 2012 as the corporate social responsibility arm of RMN Networks, Inc., which is committed to support and cultivate humanitarian relationships that uplift the Filipino's quality of life in every part of the Philippines.
With a nationwide broadcasting strength of over 60 AM and FM owned and affiliated radio stations, the RMN Networks aims to provide public service through the airwaves, but also in the most meaningful way directly to local audiences through the efforts of RMN Foundation.
The Foundation is a non-stock, non-profit organization that develops and implements programs to address the needs of the underprivileged and contribute to address the social problems in the country.
BE OUR ADVOCACY PARTNER TO HELP
For those who want to donate and be a partner of the RMN Foundation in its programs and projects, just visit www.foundation.rmn.ph or through the RMN FOUNDATION PH Facebook, Instagram, and LinkedIn pages.